Poleman Roman Stanek (US Racing) wins with a great performance, confirming all he showed in qualifying. A race always under control dispite the determination of rivals Petecof (Prema Powerteam) and Hauger (Van Amersfoort Racing). Paul Aron (Prema Powerteam) starts in first row, but loses distance and finishes sixth. He anyway manages to gain podium in the Rookies, together with Jonny Edgar (Jenzer Motorsport), fifth absolute, and the overall winner Stanek. The Russian driver of Bhaitec Srl, Mikhael Belov, is fourth after a very battled race.

The last ones to gain points are Rasmussen (Prema Powerteam), Famularo (Prema Powerteam) and Laganella (Bhaitec Srl), respectively eight, ninth and tenth.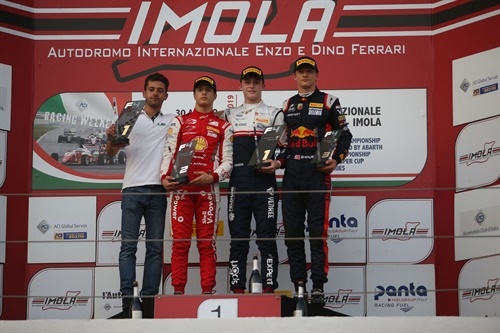 Retired are Estner (Van Amersfoort Racing), Alatalo (BWT Muecke Motrosport) and Freymuth (AS Motorsport Olimplja).

After race 2 Dennis Hauger gains the leadership of the championship with 205 points, taking it from Petecof, now second with 187 points.

Race 2 closes this second day of the ACI Racing Weekend, and competition will start again nwith race 3 tomorrow at 12.20 and in the afternoon for the recovery race at 17.40. It will be possible to follow live the races on Motorsport.tv (in Italian and English), AutomotoTV and streaming on www.acisport.it and on the Facebook page of the championship.