Dennis Hauger, the Norwegian driver of Van Amersfoort Racing reaffirms his new leadership in the Italian F4 Championship powered by Abarth. Starts in second row, gains the head of the race and he is the first to cross the finish line. Disaster race for Gianluca Petecof (Prema Powerteam) who remains blocked on the starting grid and is overtaken by many drivers. The former leader concludes the race without points, in 14th position. The ACI Racing Weekend in Romagna officially shifted the balance also in the team rankings, Van Amersfoort Racing is now first and Prema Powerteam second.
Second and third place on podium for two rookie drivers: the Russian of Bhaitech Srl, Mikhael Belov (he also does the best lap 1'45.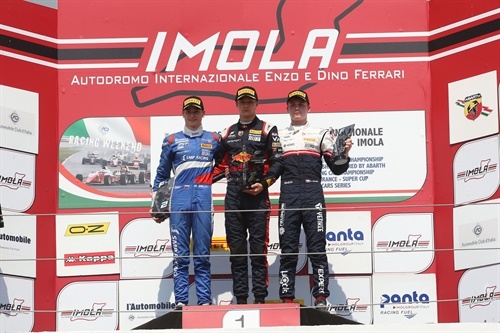 538), and the Czech driver Roman Stanek (US Racing), who had excellent performances during this weekend conquering pole position in all races, but he couldn't stop Hauger this time. Just out of the podium - but on rookie's podium - Paul Aron (Prema Powerteam), then Jonny Edgar (Jenzer Motorsport), Ido Cohen (Van Amersfoort Racing) and Umberto Laganella (Bhaitech Srl).

Retired after going out of track Andrea Rosso (Antonelli Motorsport) and William Alatalo (BWT Muecke Motorsport).

On track for the last time this afternoon, in the very end of this ACI Racing Weekend in Romagna, with the recovery race of Misano, at 17.40. Live on Motorsport.tv (English and Italian), AutomotoTV and live streaming on the website www.acisport.it and on the championship's Facebook page.