On a wet track, the show is assured in the Italian F4, where from pole the battle with overtaking and counter-overtaking is fiery, with Gabriel Bortoleto (PREMA Powerteam) who from pole must defend himself from the attacks of his teammate Gabriele Miný, with repeated changes of position at the head of the race.

As the track dries up, Miný gets into a bit of a crisis while Rosso sets up fast laps with Bortoleto who stretches.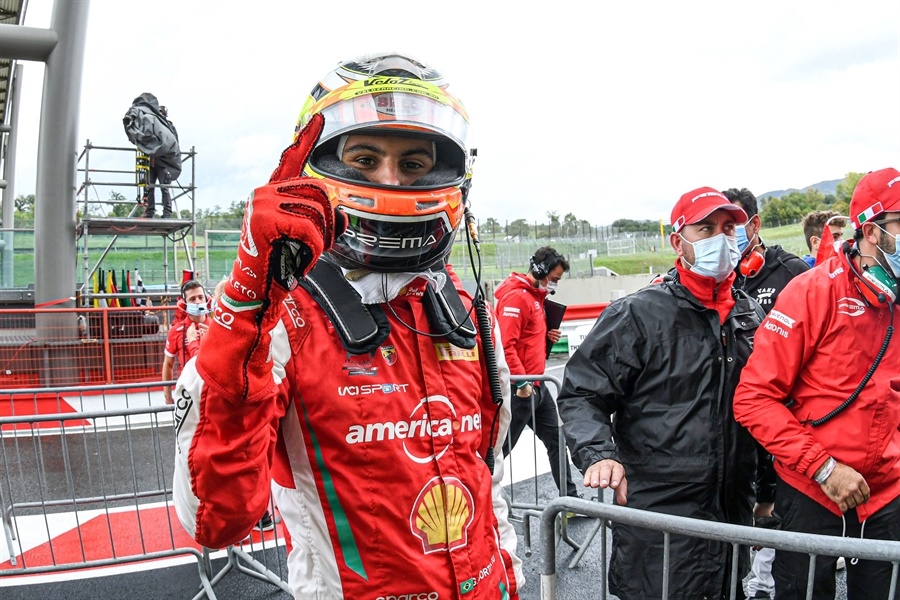 Very good also Pietro Delli Guanti of BVM Racing, who from the 14th starting position fights with Jak Crawford (Van Amersfoort Racing), Leonardo Fornaroli (Iron Lynx) and Sebastian Montoya (PREMA Powerteam) for the points, and manages to finish ninth ahead of the Colombian, to the US and Italian.

In the meantime, Rosso gets a 10-second penalty for incorrect alignment procedure at the start, seconds which unfortunately relegate him to fourth place despite his pace being equal to that of Bortoleto and the fast Italian driver had in the meantime passed Miný for the second position.

The race ends on an almost dry track with first Bortoleto, second Miný, third Dino Beganovic (PREMA Powerteam), then Rosso relegated due to the penalty, Jonny Edgar (Van Amersfoort Racing), Filip Ugran (Jenzer Motorsport), Francesco Simonazzi (BVM Racing ) Axel Gnos (G4 Racing), Delli Gianti and Montoya.