Race 2 of the Italian F4 is also a real spectacle, where the slipstreams generate continuous overtaking and counter-overtaking between the drivers. At the start, unfortunately, the poleman Andrea Rosso is not in his position on the grid due to technical problems with the car. And then it is Miný who takes the first shot and holds the first position at the start, with Pizzi, Ugran, Monotoya, Delli Guanti and Salmenautio behind him.

The clashes in the top positions are continuous, with Pizzi and Miný exchanging leadership several times, but with the VAR driver who seems more at ease.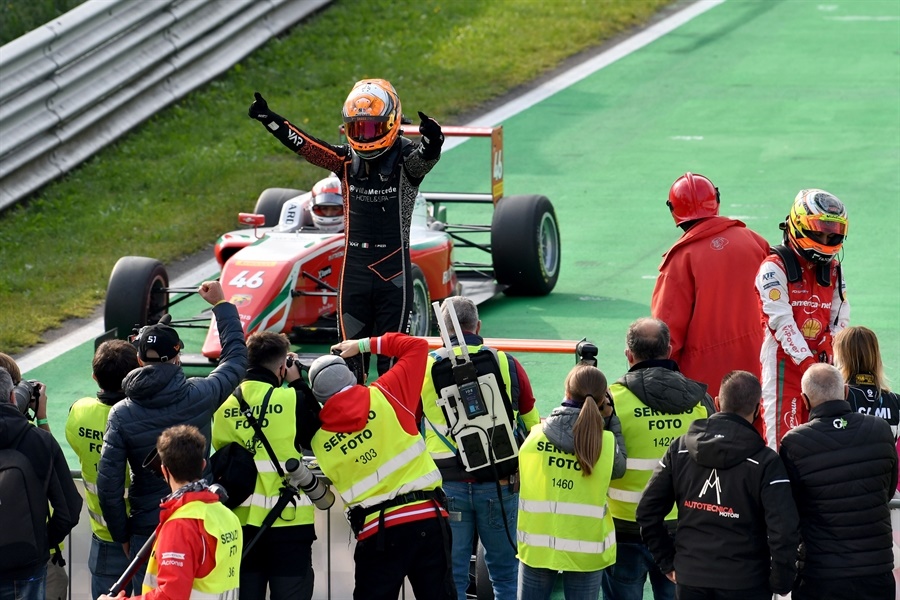 In the fight also Delli Guanti, Montoya, Ugran and Fornaroli.

18 minutes to the end of the race Hamda Al Qubaisi makes a mistake and hits the Chinese Han Cenyu and the two are out with the need for the safety car to enter the track. The leading drivers slow down, but Piero Delli Guanti flanks Miný but in the maneuver collides with Filip Ugran and the two are out of the race.

In the meantime, Montoya has gained the second position behind Pizzi, but Miný does not accept it and passes the Colombian again. The latter then finds himself flanked by Bortoleto, touches his teammate and partially goes off the track losing several positions.

In the last laps Miný tries the attack on Pizzi, just like in race 1, but this time gives up the attempt at the parabolic and so it is the VAR driver who passes first under the checkered flag, followed by Miný, Bortoleto, Fornaroli, always fast in Monza, an excellent Santiago Ramos (Jenzer Motorsport) and teammate Piotr Wisnicki, sixth.