Miný starts well from the pole obtained after a penalty of 2 positions to Crawford linked to an accident at Mugello with Edgar. Behind the Palermitan, Crawford and Beganovic followed by Delli Guanti, Edgar and Bearman.

On the second lap an accident between Bortoleto and Ogaard and the exit of Gnos require the entry of the safety car.

Up to the middle of the race the leading positions do not change, even though Beganovic is attached to Miný all the time at only 4 tenths, just as Crawford follows in third position at less than 6 tenths.

Delli Guanti with technical problems looses several positions, while Bearman and Fornaroli, fourth and fifth, perform very well.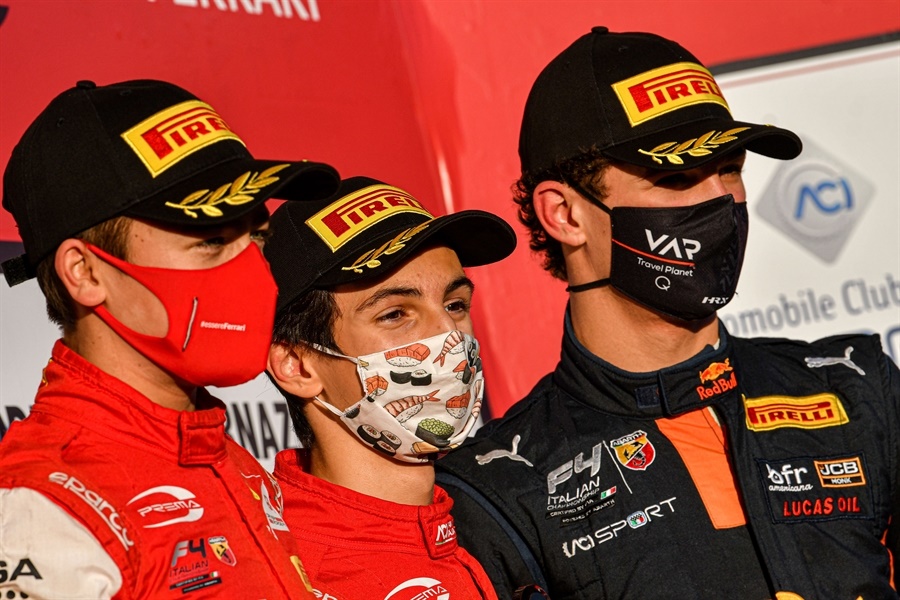 Overtaking and counter-overtaking battle between Crawford and Beganovic, who is overtaken and then takes second place back from the American driver.

In sixth position Leonardo Fornaroli (Iron Lynx), makes an excellent overtaking on Jonny Edgar. Behind the English driver, Montoya, Smal, Pizzi, Duerksen and Rosso, subdued compared to his best levels.

Miný takes advantage of the battle between Beganovic and Crawford and stretches to almost 2 seconds. Meanwhile, Fornaroli is much faster than Bearman and attacks him several times, but without success.

Miný wins and strengthens his leadership in the championship, behind him at the finsih line Beganovic, Crawford, Bearman, Fornaroli, Edgar and Montoya.

"It was tough from the start where I kept the lead. The safety car didn't help, but I'm happy for the final result. Tomorrow I have to give my all and the races will all be very tough", comments the Sicilian.