Caldwell is the fastest at the start and overtakes both Vesti and Petecof, while the first two drivers of the championship classification are out in the first lap

12/05/2018 – Race 1 sees great battle at the start, where the Prema Theodore Racing driver, English Olli Caldwell, is faster then all the rest and overtakes poleman Frederik Vesti (Van Amerfoort Racing) at the first corner, where the Danish drives is a little bit too wide. Behind them, still before turn 1, Fittipaldi crashes to aniother driver and looses its rear wing with consequent retiring. At the end of the race he will also be penalized with 4 positions on the starting grid of race 2. Also seond in the championship classification, Leonardo Lorandi (Bhai Tech Racing) is out of the race in the first lap.

After this first phase, Petr Ptacek (Bhai Tech Racing) set a number of fast laps and overtakes first Gianluca Petecof (Prema Theodore Racing) and then Jack Doohan (Prema Theodore Racing), gaining third position behind Caldwell and Vesti, the latter able to set best lap (13).

The two teammates Doohan and Petecof are very close to each other in fourth and fifth position and are pushed from the back by Toby Sowery (KDC Racing. Petecof so tries to overtake Doohan who actually continues on his trajectory and finally the two hit each other.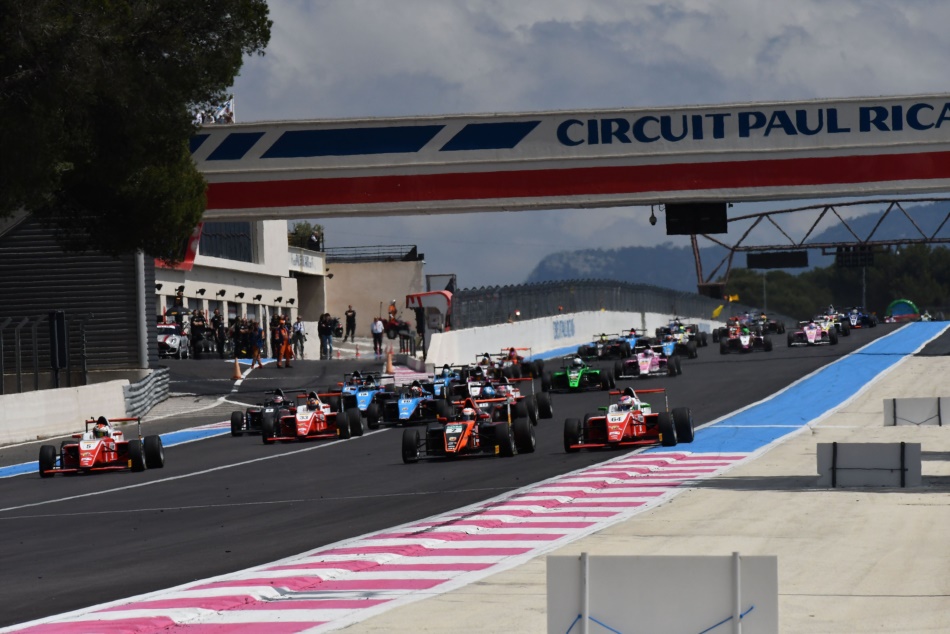 Doohan is out of the race, while Petecof manages to continue, but is penalized 10" by the judges on the final classification.

On the podium Olli Caldwell, Frederik Vesti and Toby Sowery, who manages to overtake Petr Ptacek, in difficulty with his tyres in the last laps.

In the Rookie Trophy Petr Ptacek is first in front of Niklas Krutten (Muecke Motorsport) and Ilya Motozov (KDC Racing).

The championship classification sees the first six positions led by Fittipaldi still with 65 points, followed by Lorandi at 61, while third is Olli Caldwell, thanks to the 25 points of this victory, followed by Toby Sowery at 39, Gianluca Petecof at 34 and Federico Malvestiti (Jenzer Motorsport) with 33 point.
In the Rookie Trophy the first 6 classified are Gianluca Petecof, still first with 85 points, followed by Petr Ptacek with 67, Marzio Moretti (BVM Racing) with 42, Niklas Kruteten (Muecke Motorsport) with 35, Umberto Laganella (Cram Motorsport) with 33 and Ido Cohen (Muecke Motorsport) with 31 points.

Tomorrow start of race 2 is at 9:00 (CET + 1), with live video from 8:45 on Sportitalia television, while race 3 will start at 15:40 but on Sportitalia from 17:45. Both races will be shown live streaming on ACI Sport website on page http://www.acisport.it/it/F4/home and on Facebook at the link www.facebook.com/italianf4championship/.