Olli Caldwell wins also race 2, while behind him Fittipaldi reduces distance from Lorandi in the ranking, and Ptacek is third

Vallelunga - 16/09/2018 – Always a strong battle, but with less contacts car to car in second race at Vallelunga, where Olli Caldwell (Prema Theodore Racing) from pole keeps the position to the end, with a pace that Petr Ptacek (Bhai Tech Racing), second on the grid, manages to maintain only in the first half of the race. Behind, third position, Enzo Fittipaldi (Prema Theodore Racing) has to defend himself from Leonardo Lorandi (Bhai Tech Racing), and finally manages to do so, also overtaking Ptacek in the final laps, who ends third. Leader of general classification does not manage to be as strong as usual and ends up at the base of the podium.

In the Rookie Trophy first is once again Petr Ptacek, second Gianluca Petecof (Prema Theodore Racing) and third a very good Alessandro Famularo (Bhai Tech Racing), who seems to have improved a lot since he is trained by great champion Juan Pablo Montoya.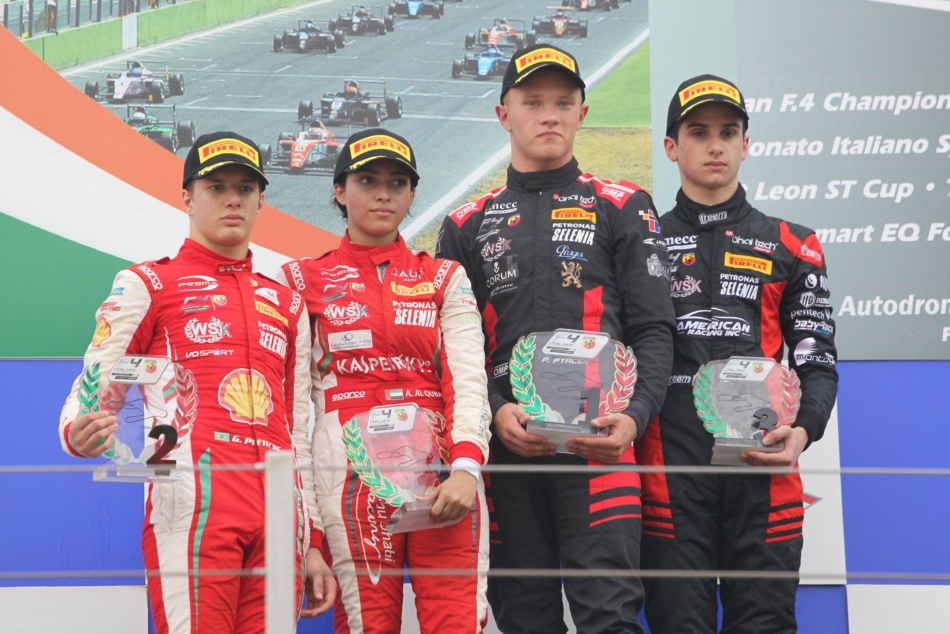 "I am very satisfied and car by Prema is excellent; I thank the team for this. I will try to repeat myself also in race 3", Caldwell comments.

"I had the rhythm, even though Prema cars are really fast here in Vallelunga. Unfortunately, I had some problems with the brake balance so I have not managed to resist from the attack of Fittipaldi", comments Ptacek.
Details and classifications on www.acisport.it/it/F4/home.