While Petecof is first for the entire race, the two championship leaders cancel each other with an accident that advantages Caldwell

27/10/2018 – Gianluca Petecof (Prema Theodore Racing) is amazingly quick at the start and overtakes teammate Enzo Fittipaldi, gaining immediately some advantage. Behind Fittipaldi Leonardo Lorandi (Bhai Tech Racing) keeps third position followed by Olli Caldwell (Prema Theodore Racing). After a few laps, while Petecof has gained some advantage, Lorandi has closed the gap from Fittipladi and tries an internal overtake. The two cars hit each other on the rear wheels and Fittipaldi is out. Lorandi continues but his F4 is damages and looses 2 second a lap. One after the other follwing driver overtake him, starting with Andreas Estner (Van Amersfoort Racing), William Alatalo (Muecke Motorsport), Giorgio Carrara (Jenzer Motorsport) and Petr Ptacek (Bhai Tech Racing). Lorandi is finally obliged to retire and so neither Fittipaldi not him gain any points. It is Olli Caldwell to take advantage with a second position and 18 points: that bring him to 246 points in the general standings, closing the gap from Fittipaldi, 257 and Lorandi, 266.

A fantastic Gianluca Petecof, Rookie, wins his first race in F4, while third is Andreas Estner (Van Amersfoort).
Tomorrow race 2 will start at 9:00 and race 3 at 15:30, with live streaming on Facebook starting 5 minutes earlier, while the races will also go live on Sportitalia TV.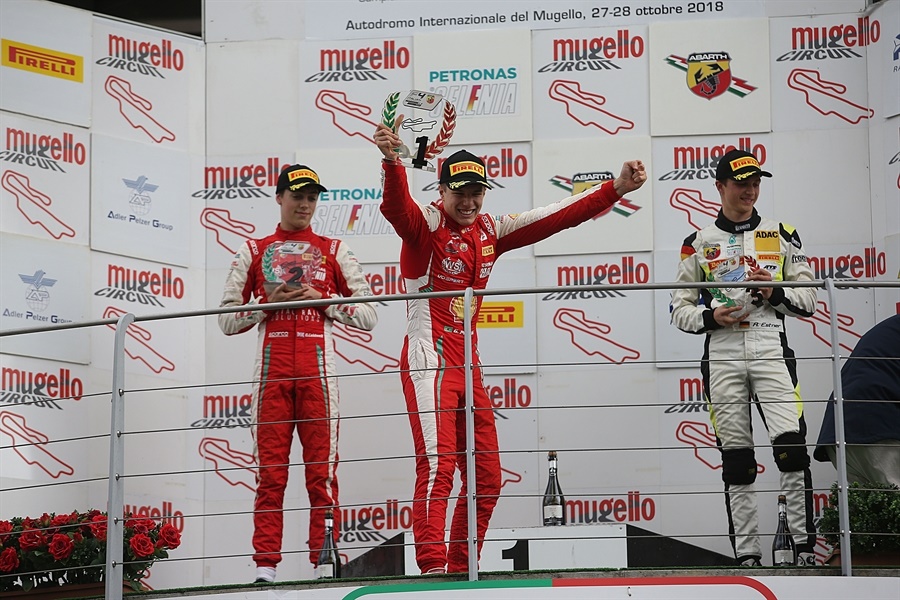 Details and standings on www.acisport.it/it/F4/home.

Carlo Forni
Press Office - Ufficio Stampa
Italian F4 Championship Powered by Abarth

Carlo.forni@acisport.it
www.acisport.it/it/F4/home
www.f4championship.com/

Social
www.facebook.com/italianf4championship/
www.instagram.com/italianf4championship/
www.youtube.com/user/CsaiTV/featured
www.twitter.com/CIFormula4