On a track which is still totally wet the Czech driver is the fastest

Race 2 starts on a wet track with SC for a launched start, where Stanek (US Racing) loses the leadership of the pole position in favour of Petecof (Prema Powerteam), who also makes a great overtake on Cohen (Van Amersfoort Racing AV). An accident requires once more SC on track.

At the restart Carrara (Jenzer Motorsport) and Aron (Prema Powerteam) hit each other and go off track at the Cimini. In the meantime Durksen overtakes Rasmussen (Prema Powerteam) and Belov (Bhai Tech Racing), while in the lead are Petecof, Cohen and Stanek.

7' to the end of the race Stanek overtakes Cohen, while behind are extremely close Duerksen (BWT Muecke Motorsport) and Belov. The first Italian driver, Umberto Laganella (Bhai Tech Racing) follows.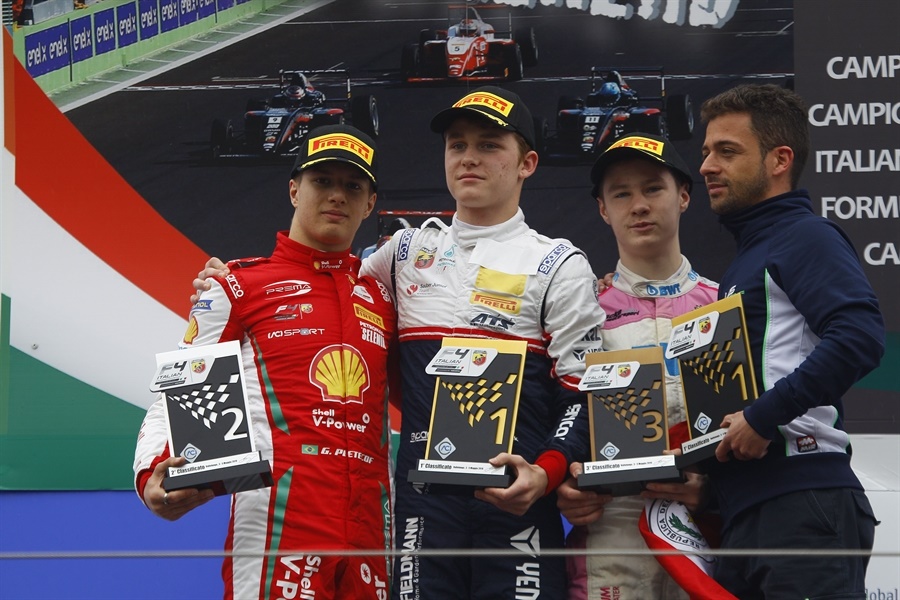 2' later Durksen overtakes Cohen, while Belov also attacks the Israeli driver, but with no success. In the meantime Famularo retires due to problems with the car after being hit by another driver. On the last lap Stanek manages to overtake Petecof, gaining also some distance and winning.

On the absolute podium 3 drivers of 3 different teams: Stanek, Petecof and Durksen.

Stanek is evidently also the first of the Rookie Trophy, followed by Durksen and Ferrari (Antonelli Motorsport).

At 17.15 race 3 live on Motorsport.tv and AutomotoTV, or live streaming on acisport.it website and the Facebook page of the championship (https://www.facebook.com/italianf4championship/).