The second round of the Italian F.4 Championship Powered by Abarth Certified by FIA highlighted the young talent of Van Amersfoort Racing, who in the first round at Paul Ricard, was not able to show what he exhibited in qualifying. Bearman, on the circuit named after Marco Simoncelli, managed to score two pole positions, two wins and a second place in the race. Improving also in the standing starts that penalized him in France. Thanks to these results, the British driver leaps to the top of the overall standings with 107 points, 27 more than Leonardo Fornaroli.
The Iron Lynx driver from Piacenza raced perfectly in Misano, adding a bit of aggressiveness that had been missing until today, especially in the most important phases of the races and he showed that he can challenge the top drivers in the series.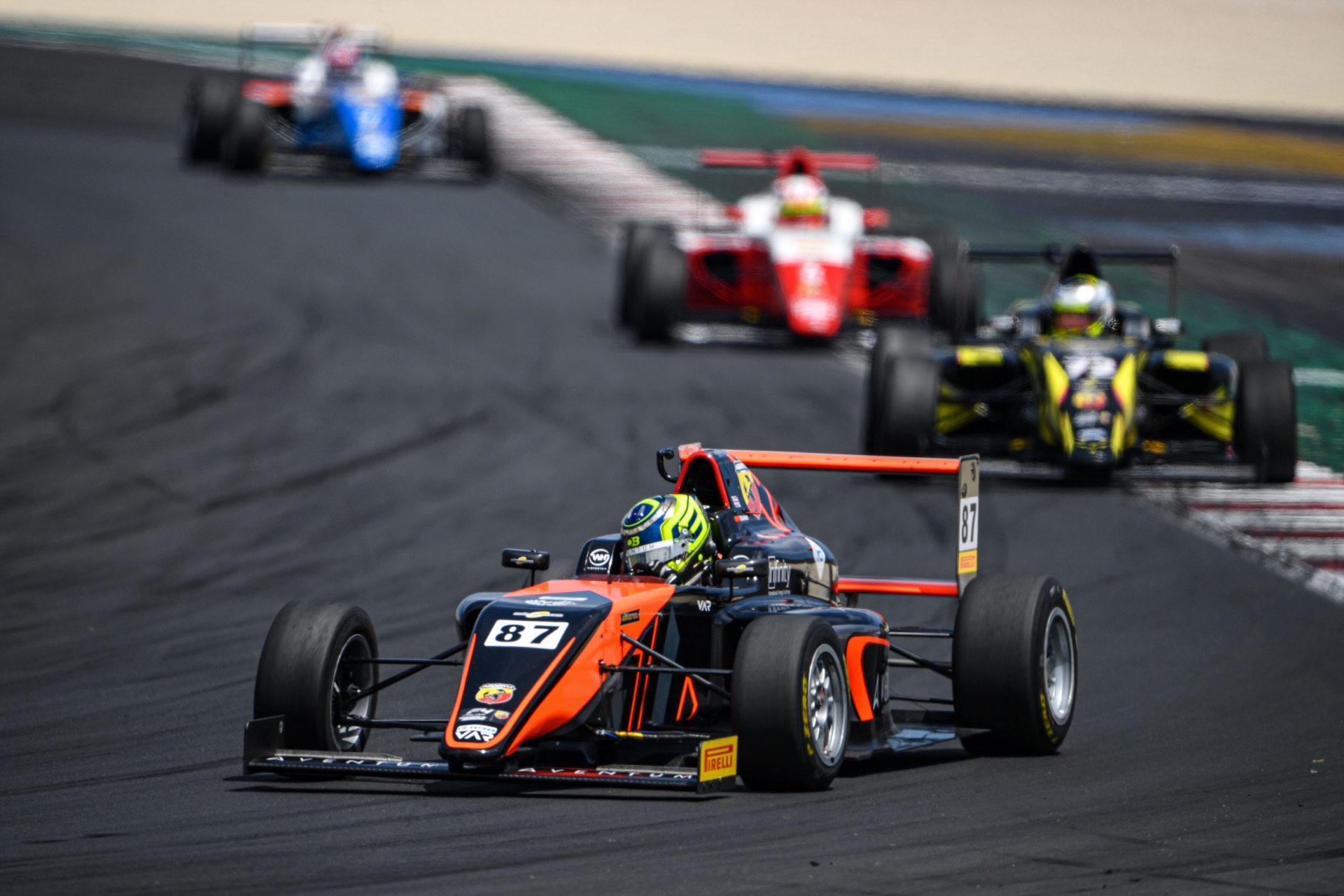 Despite his absence in the second round, Tim Tramntiz (US Racing) maintains the third position, while the Russian driving for Prema Powerteam Kirill Smal did not take advantage of the opportunity and he never took a podium in Misano, bringing home only 26 points, challenged also from his teammate Sebastian Montoya, who is just three points behind him in the standings. The Colombian driver twice on the podium at the Misano World Circuit is gaining more and more confidence and he can become one of the aspirants to the final title.
The Misano round has also highlighted the talent of Hamda Al Qubaisi, first woman on the podium in eight seasons of the F.4 Italian Championship. The driver from the Arab Emirates has written the history of the series thanks to her third place, now she needs the continuity to be always among the top drivers.
Among the rookies the perseverance rewarded Lorenzo Patrese who thanks to his 47 points took the lead of the rookies standings.
The ex F1 driver's son driving for AKM Motorsport was always close to the top 10 and continues to improve his results. Same for Jonas Ried (BWT Muecke Motorsport) who
in spite of fluctuating results, managed to be only two points behind the driver from Padua.
It was a weekend of comeback for Leonardo Bizzotto (BVM Racing) who, thanks to a win and a third place, remains very close to the first two and precedes Kacper Sztuka (AS Motorsport) and Maya Weug (Iron Lynx) in the standings. The top 5 rookies are gathered in 11 points and it is expected to be a very challenging season.
Already in Vallelunga, at the end of the month, another battle will take place.