It's a trio of poles at Vallelunga for Andrea Kimi Antonelli.
The young PREMA Racing talent takes home the advantage in all three races of the weekend, and brings his season pole tally to 8. Also alongside him will be his partner, Rafael Camara, in a recurring duel of the first part of the Italian F.4 Championship season. The Brazilian, Ferrari Driver Academy, is currently leading the drivers' standings, with a narrow margin of just 3 points; Antonelli, Junior Mercedes, is in the midst of his positive trend, and at Vallelunga it is open chase for the leadership of the classification, nothing will be easy: his rival is determined not concede anything. There is also strong opposition from the German teams US Racing and PHM Racing, with all the cards in order to 'ruin the party' for the drivers in red and white livery.
Qualifying took place at Vallelunga under the scorching Roman sun, with the air temperature blazing at 30 degrees, bringing the track to over 45° with humidity at 33%. There are 37 cars on the track to contend for pole position in the weekend's 3 races, so traffic on the track is one of the main difficulties. Andrea Kimi Antonelli manages to find space for the fastest lap about halfway through the session, soon after Rafael Camara sets the best time, taking the record away from his teammate. 1'34.390 is the time that earned the PREMA Racing Junior Mercedes its first pole. His Brazilian teammate chased him at +0.149, thus earning the first row. The second row will also be occupied by PREMA Racing cars with Charlie Wurz (+0.317) and James Wharton (+0.461). A US Racing duo, Alexander Dunne (+0.465) and Marcus Amand (+0.476).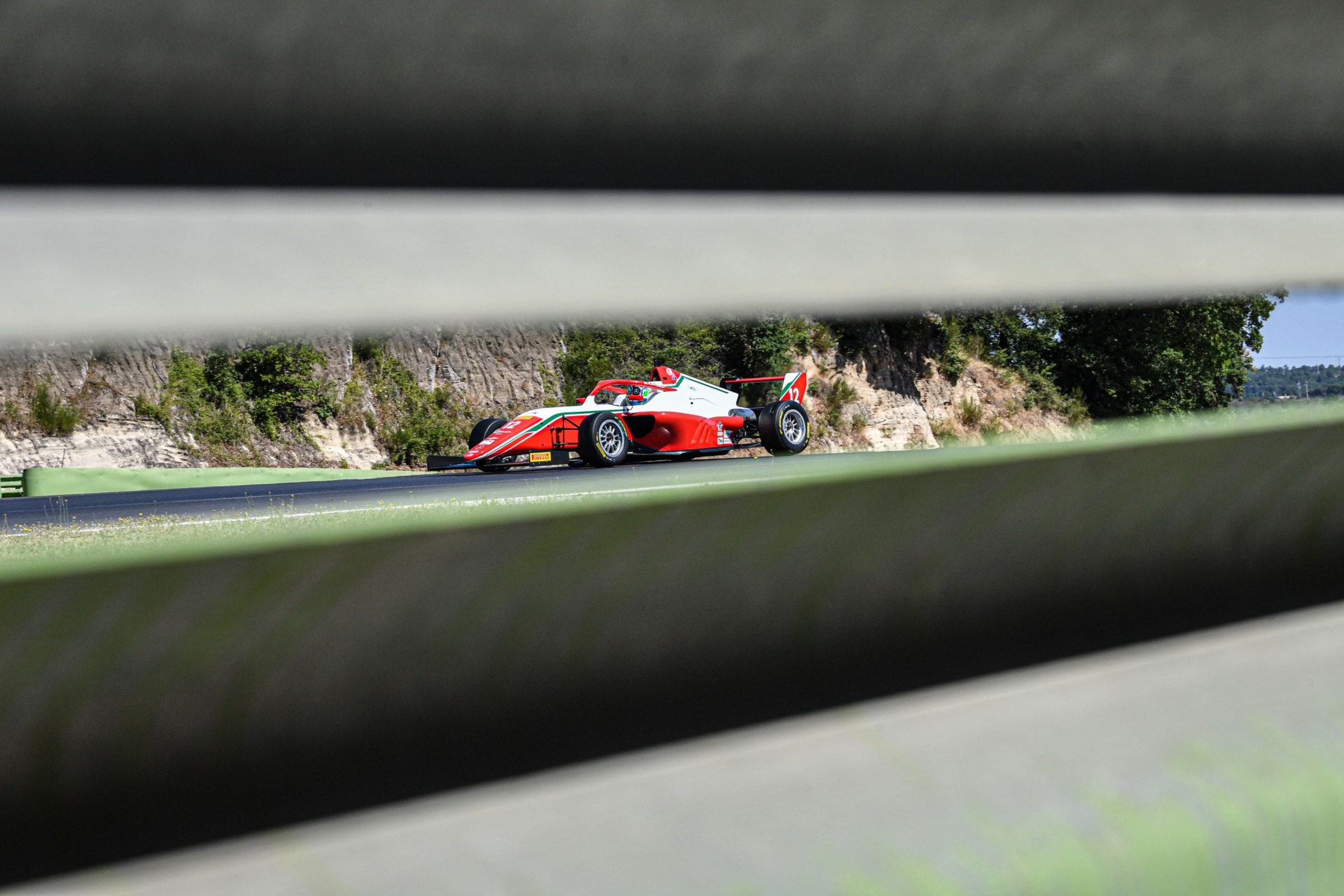 Behind them their teammate, Polish driver Kacper Sztuka (+0.591), who will start on the fourth row flanked by Nikita Bedrin, PHM Racing (+0.651). Ninth in practice was Britain's Taylor Barnard (PHM Racing), who followed his companion with a gap of +0.720. Closing out the top 10 in the first session is Nikhil Bohra, US Racing, (+0.722). Three more drivers remain under a second's gap from Antonelli: Pedro Perino, US Racing driver from Mozambique, the fifth PREMA driver Conrad Laursen and the Italian driver of AKM Motorsport, Valerio Rinicella.
The second session began with an exchange of fast laps between Perino, Bohra, Ethan Ischer (Jenzer Motorsport) and Camara, then again Antonelli imposed himself by further improving his time and completing the job with 1'34.275. He will be joined in race 2 first row again by Camara (+0.134), while on the second row will be the Polish driver Sztuka (+0.310), then Austrian Wurz (+0.357), Amand (+0.472), Barnard (+0.539) and Wharton (+0.551). In P8, the fourth row, Dunne (+0.599), flanked by teammate Bohra (+0.625). Next up is Dane Laursen (+0.705) and Van Amersfoort Racing's Italian driver, Brando Badoer (+0.803), closely followed by his Norwegian teammate, Martinius Stenshorne (+0.813).
Race 3 will also have a PREMA Racing lead, with Antonelli dictating the pace and setting 1'34.437 as the second best time in the second session. Fellow-rival Rafa Camara will follow him from the front row, then Wurz, Amand, Sztuka and Dunne. The front rows will therefore be equally made up of drivers from the Grisignano stable who will have to cover themselves from the assaults of Ralf Schumacher and Gerhard Ungar's team drivers.
Andrea Kimi Antonelli: "really tricky session, because of the number of cars in the track. The track compared to Spa is way smaller, it is really hard to find the right space. We struggled a bit to find the right gap, but in the end I managed to get a good lap. It was enough to be on pole, and I'm really happy for that." And then on the races: "having a lot of cars behind, you have a little bit of pression. I think I can do a good race. I just need to have a good start and then manage the pace."