The Italian F.4 Championship at Paul Ricard Circuit witnessed a thrilling conclusion. James Wharton, leading for most of Race 3, had a loss of power on the final straight, losing the chance of victory. Kacper Sztuka seized the opportunity and secured the first-ever hat trick for Gerhard Ungar and Ralf Schumacher's team, US Racing. The Polish driver briefly took the lead at the start, overtaking his rival to claim the top spot, but the Ferrari Driver Academy from Prema Racing reclaimed the lead and started building a gap until the dramatic twist at the end. Sztuka completed this way a perfect weekend, obtaining 75 points that fully brought him back in the fight for the title. Wharton, after demonstrating an exceptional pace on the French track, finished the last race of the weekend in second place. Third place went to Prema Racing's Ferrari Driver Academy driver Tuukka Taponen, who once again reached the overall podium and obtained the third consecutive Rookie win, his fourth of the season.
Brando Badoer, the Italian driver from Van Amersfoort Racing, narrowly missed the podium in fourth place, concluding a challenging weekend. After finishing seventh in Saturday's race, he was forced to retire following an incident in Race 2. Ugo Ugochukwu, Prema Racing's McLaren junior driver, finished fifth, showcasing his competitiveness on the track. The American had an extremely positive weekend with two podium finishes, allowing him to narrow the gap from the Championship leader, Arvid Lindblad. The Red Bull junior driver from Prema Racing secured the sixth position in the last race of the weekend. Lindblad consistently scored points in all the weekend races, with his best result being fourth place in Race 2.
In Race 3, Akshay Bohra crossed the finish line in seventh place. However, he received a 5-second penalty for overtaking his teammate Zachary David outside the track limits, dropping him out of the points zone. The seventh position was then inherited by French driver Rafael Narac from R-ace GP, who earned valuable points on home circuit and secured the third position on the Rookie podium behind Taponen and Lindblad. Ariel Elkin, the Israeli driver from Jenzer Motorsport, finished eighth, followed by Enzo Deligny, the Red Bull junior driver representing AKM Motorsport.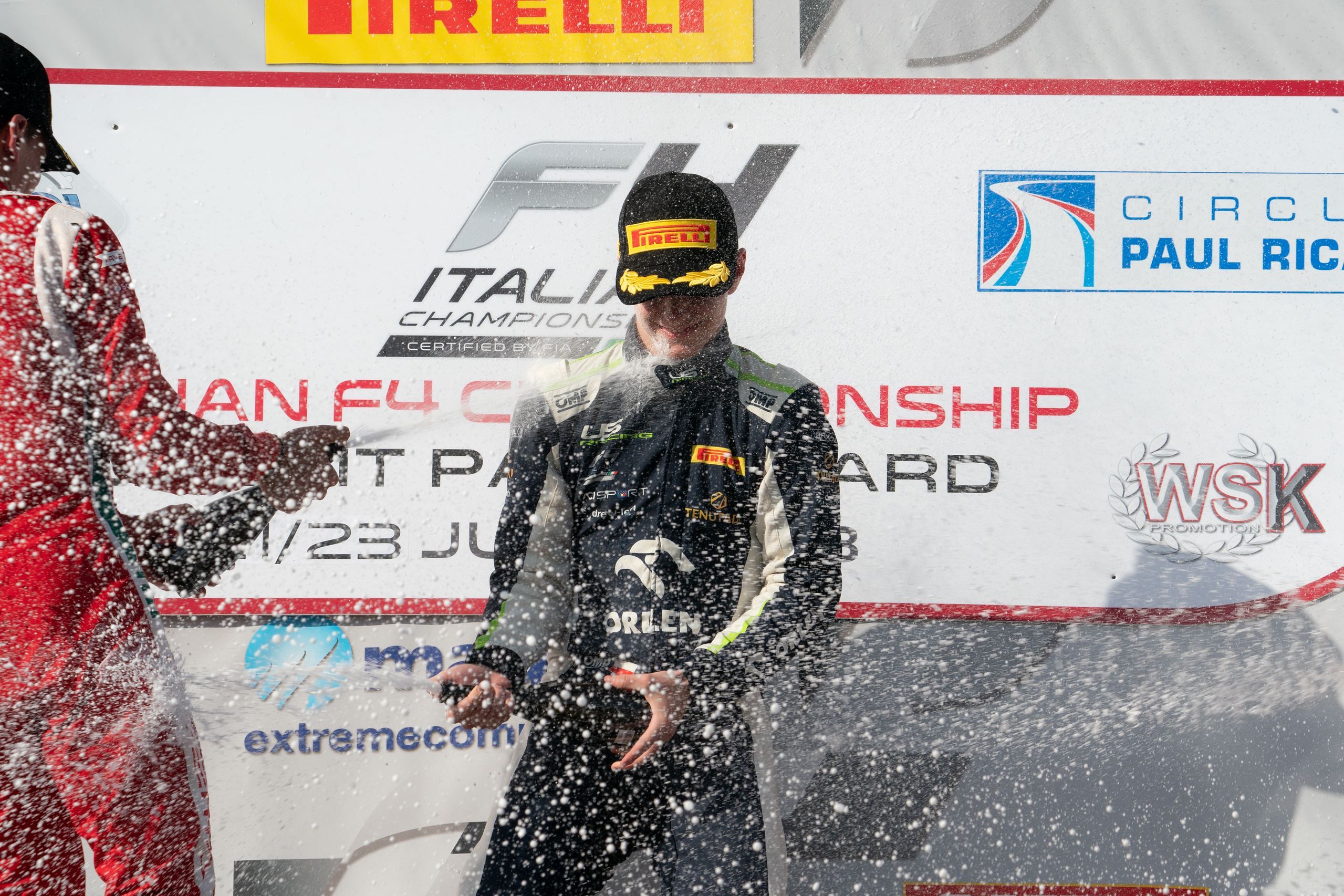 Matheus Ferreira, the Brazilian Alpine Academy driver racing with Van Amersfoort Racing, wrapped up the points-scoring positions.

In the women's race, Aurelia Nobels, the Brazilian Ferrari Driver Academy driver from Prema Racing, claimed victory ahead of Swiss Tina Hausmann from Team AKM Motorsport and Victoria Blokhina from Team PHM Racing.

In the Championship standings after the round, Arvid Lindblad maintains his position at the top with 243.5 points. However, his lead has narrowed to 57 points, with Ugo Ugochukwu in second place with 186 points. Thanks to a full score from the fifth round, Kacper Sztuka moves up to third place with a total of 183 points. There are still 150 points up for grabs in the remaining 2 rounds. The standings remain under review until further technical scrutineering are conducted on the top six cars of the Championship.


The next round of the Italian F.4 Championship will take place at Mugello Circuit from September 29 to October 1.

After the summer break, also the Euro 4 Championship will return for its second round of the season at Monza from September 15 to 17.

Kacper Sztuka: "It was a really great weekend. First time in the history for US Racing to get three wins. I'm super happy, great job by the Team. Thanks to them, to all the sponsor, everybody supporting. It feels great. The Championship is not over yet, still two rounds to go, six wins to take, we will try our best and keep pushing, for sure!".

James Wharton: "I just had problem with the fuel injection in the last lap. I felt it going in the last straight. I did all my job then, I showed that I'm fast on track. Finally this weekend I showed my pace, and drove away quite easily, I was just saving tires. From my side, it was an easy race. I just got a bit unlucky, which is how the game goes."

Tuukka Taponen: "Really good weekend, after a lot of bad luck and some mistakes, and not having so good speed. It is a really good step forward, I think, and that's the level of where I should be as well. My target is to go top 3, which wasn't my target when we started the season, but we need to always change the expectations going into the weekend. This is realistically what we can do, I think. We had really good speed, but we were lacking tiny bit of speed to really fight for the lead, or for the second place. It is a good step forward anyway."
Tuukka Taponen: "Really good weekend, after a lot of bad luck and some mistakes, and not having so good speed. It is a really good step forward, I think, and that's the level of where I should be as well. My target is to go top 3, which wasn't my target when we started the season, but we need to always change the expectations going into the weekend. This is realistically what we can do, I think. We had really good speed, but we were lacking tiny bit of speed to really fight for the lead, or for the second place. It is a good step forward anyway."