Le Castellet (FRA)- 16th May 2021- Show and emotions during the first round of the eighth season of the Italian F.4 Championship Powered by Abarth Certfied by FIA. On the French track of Paul Ricard the 37 Tatuus powered Abarth and tyred Pirelli have confirmed the greatness of the championship which is at the summit of the international motorsport with 18 nationalities represented by 4 different continents. 17 rookie drivers have moved the first steps in the world of the open wheel cars and who demonstrate, from the very beginning, to be competitive.

The Russian Kirill Smal from Prema Powerteam has won race 1 after having led it from the beginning to the end. Starting under safety car on a wet track the younger drivers of the F.4 have demonstrated to be very prepared and concentrated. Tim Tramintz (US Racing) and Oliver Bearman (Van Amersfoort Racing) got on the podium, together with Smal.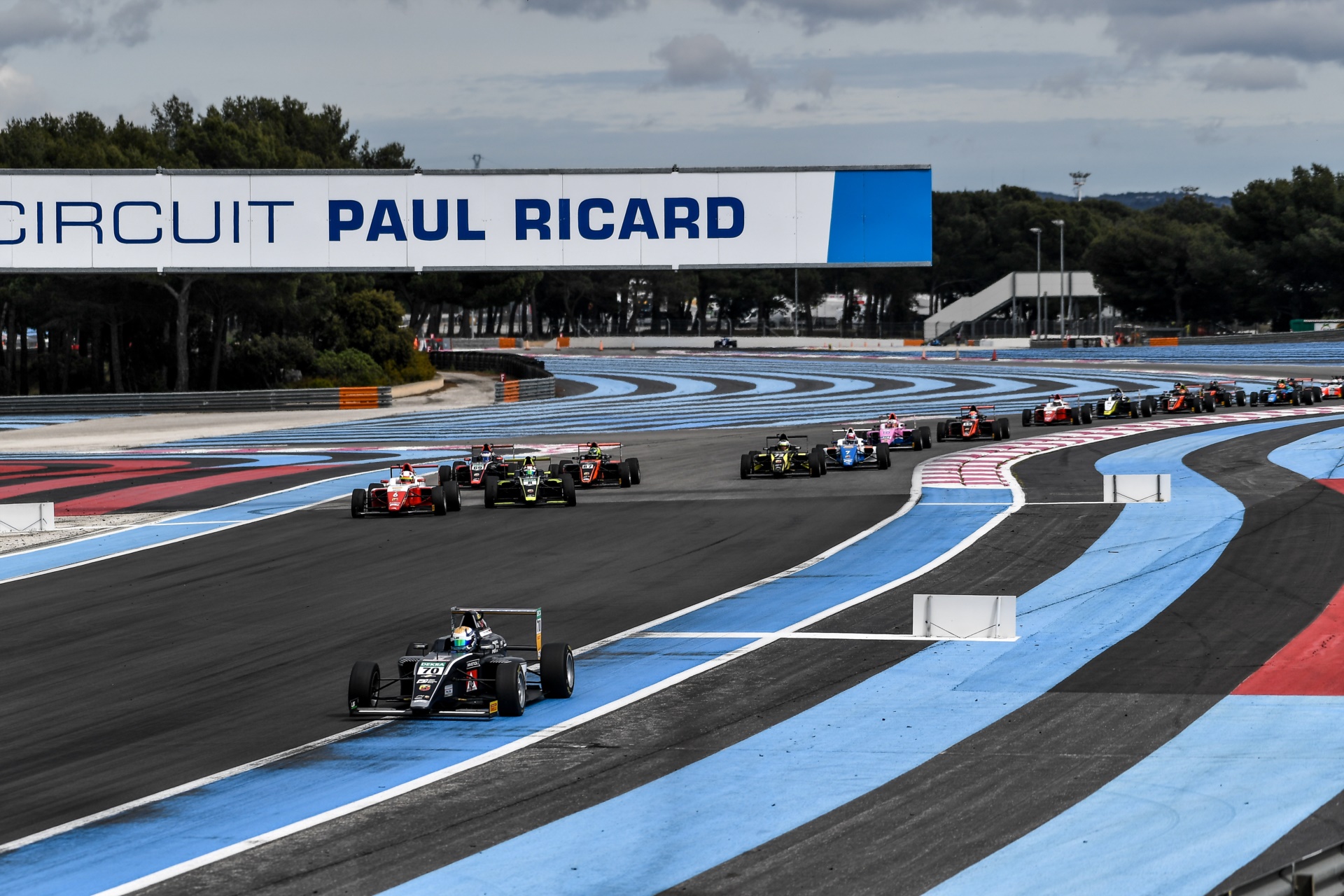 Among the rookies the victory has been conquered by Conrad Laursen (Prema Powerteam) who has closed the race occupying the fifth position in the absolute ranking, behind Vlad Lomko (US Racing).

In race 2, the mistake made by Bearman gave Tramnitz the possibility to take the lead from the beginning of the race. The German has maintained the lead until the chequered flag in front of his teammate Luke Browning, the winner of race 1 Kirill Smal. Out of the podium Sebastian Montoya (Prema Powerteam) was able to win against the expert Joshua Durksen (BWT Mueke Motorsport) and Vlad Lomko (US Racing). Among the rookies Lorenzo Patrese (AKM Motorsport) won the race, the Polish Kacper Sztuka (As Motorsport and the French Marcus Amand (R- ACE GP) completed the podium.

The third race on the difficult French track gave another great emotion to Tim Tramntiz, who thanks to his victory, confirmed his leadership in the championship. The German took advantage of Bearman's unperfect start again and went forward to success. The battle for the podium rewards Bearman, helped by Browning's mistake during the penultimate lap, and Vlad Lomko who conquered his first podium in front of Leonardo Fornaroli (Iron Lynx) and Sebastian Montoya. Among the rookies the German Jonas Ried (BWT Meucke Motorsport) took the victory in front of Maya Weug (Iron Lynx). The young driver from the Ferrari Driver Academy is three-times winner of the battles with Hamda Al Qubaisi (Prema Powerteam) for the feminine ranking. Francesco Branschi (Jenzer Motorsport) closed the rookies' podium.

The general standing sees Tim Tramnitz with 68 points in front of Kirill Smal 40 points, followed by Oliver Bearman 39 points. Among the rookies Maya Weug has the leading with 38 points, in front of Jonas Ried just one point behind and Kacper Sztuka 32 points.

Next appointment with the Italian F.4 Championship Powered by Abarth Certified by FIA is scheduled from 3th to 6th June in Misano World Circuit- Marco Simoncelli.